While public pools are notoriously busy in summertime months, and trips to a nearby hot springs consume your entire day, oasis style pools/hot tubs provide the rest and relaxation you deserve in the comfort of your own backyard. The creative freedom within designing your very own oasis is nearly endless. Whether your swimming pool vision includes a diving board, whether or not it's heated, shaded or sunny, you will no longer be bothered by the large crowd or the dreaded "warm spots" in public pools.
What is a swimming oasis?
A swimming pool or hot tub oasis is a step above your average swimming experience. An oasis is an environment that adds richness and comfort to the simplicity of swimming. Depending on your ideal getaway, the swimming pool/ hot tub oasis can be designed in various different styles. Some ideas include desert scenery, a tropical hideaway, or to give the impression that you're soaking in a 5-star hotel and spa. Based upon your style choices and vision for the overall mood of your soaking space, contractors and landscapers can construct your very own vacation destination.
What does my ideal oasis look like?
Your style and mood choices are essential to build upon when creating a vision board for your swimming and soaking oasis. You should consider the overall tone you want to leave as the impression, including the intention behind your oasis.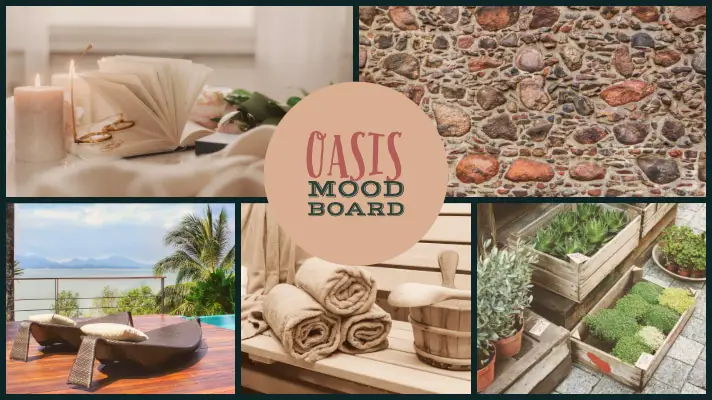 Think about the way you want to feel when you enter your oasis. Is your pool used for recreation or relaxation? Will this be your personal luxury spa? Do you want it to be the center of your pool parties? It is important to take note of the shaping elements of your soon-to-be swimming pool oasis.
For more ideas on how to turn your backyard into an oasis, check out our DIY Pool Decor board on Pinterest!
Important elements to consider
Attention to detail goes a long way when landscaping and designing your dream oasis. Whether your ideal oasis mood is based upon luxury, romance, or sport, small ornaments and carefully placed decor tie the environment together in ways that can save you time and money. Our suggested top picks to include in your oasis are:
Lighting
Plant life
Hang a hammock or grab lounge chairs!
Not only are your style choices considered and catered to in the process of the build, but the lifestyle choices of you and your family are of high value as well. To give you the most relaxing experience possible, lifestyle choices including how often you cook/BBQ outside, your television consumption habits, as well as how often you spend your time outside are all important factors. In addition to soaking in your personalized resort pool/ hot tub, you can enjoy the entirety of your backyard with ease, as other outdoor installments, such as fire pits, waterfalls, smaller rock pools, TVs, and slides can be built to supplement your experience.
Click here to see our Above Pool Landscaping board on Pinterest.
Think Oasis, BE Oasis
While the convenience of a public pool may be enticing, and hot springs may offer themselves as destination spots, there is no replacing the achieved sense of rest and relaxation brought to you by a spa resort style pool. The ease given by the environment of the resort pool allows for the creation of endless memories for you, your family, friends, and house guests. Skip the warm spots and long drives and give yourself what you deserve, a luxurious, stress-free soaking experience from the comfort of your own home.
If you enjoyed this article and are looking for more DIY inspo, check out our blog post on DIY Pool Landscaping Ideas!