Pool Water Delivery Quick Answers:
Where can I get water to fill my pool? 
If you're ready to set up your above-ground pool, inground swimming pool, or hot tub, that question is square one. 
One option that many pool owners consider is having water delivered by a local pool water provider. But what should you look for in a swimming pool water delivery service? In this article, we'll explore how much water delivery will cost, what type of water (and how much) you'll need, what you should know about pool maintenance, and how to reduce water loss and more.
Different Types of Water You Can Get Delivered
So what kinds of water are available for delivery? The availability will vary depending on where you live, as well as what your local water companies choose to offer. Many services offer potable drinking water delivery. Potable water is perfectly fine to use in a pool or hot tub, but you'll have to test it and treat it before swimming in it. On the other hand, some companies explicitly deliver municipality water, which also requires testing and treating.
In some instances, you might be able to get pre-chlorinated water delivered to your home. With chlorinated water, you may not have to treat your swimming pool, which will save you time if you're eager to dive in. Having said that, testing the water to make sure it's chemically balanced is still crucial. 
What to Know About Pool Water Delivery Services
Swimming pool water delivery exists for a reason! Finding an affordable and feasible pool water source can be a challenge – whether you're trying to fill an existing swimming pool or just need a top-off. Depending on where you live, there's a good chance that multiple local companies are available to bring water tanks to your home. The average individual tank can carry from 2,000-8,000 gallons of water.
How Much Water Do You Need for Your Pool?
When you're ready to call a swimming pool water delivery service, you'll have to figure out how many gallons you need, especially if this is your first time filling it. In addition to helping you balance your water, Pool Calculator can help here, too. With our pool volume calculator, you can easily estimate how much water your swimming pool needs.
Do you have an oval, round, or rectangular pool? To find how many gallons you need, just enter the shape of your pool along with the width, length, and average depth – it's as easy as that.
Here is sizing and gallon information for the most common types of pools
Above Ground Pools (48" Depth)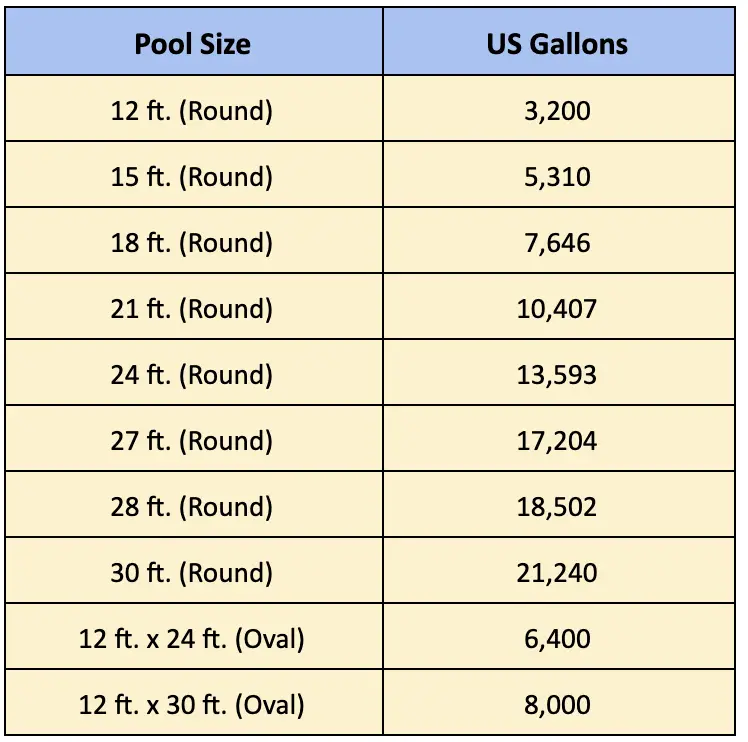 Inground Pools (Avg. Depth 5 Ft.)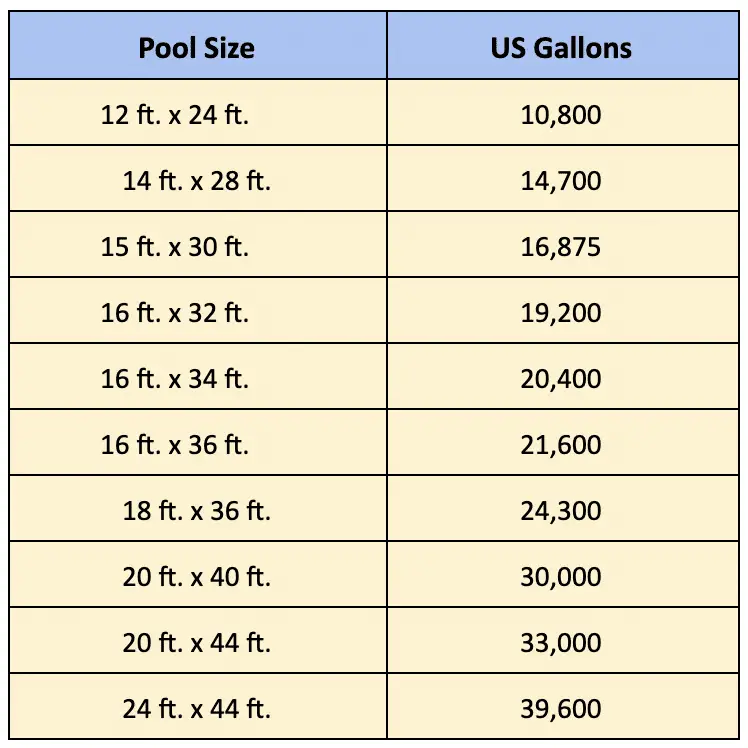 How Much Does Pool Water Delivery Cost?
Generally, pool water delivery is more expensive than filling a pool with well water. But the exact price per company depends on many factors. 
Factors include: 
How many gallons of water you need to fill your pool
Where you live (to determine how far you live from a company's water source)
What time of year you're looking to fill your pool
If your tank can hold a second load (some companies give a discount for multiple loads) 
What type of water you want to fill your pool with
While there are many benefits of swimming pool water delivery, possibly the best part about having a tanker fill your pool is that it's much faster than filling it with city water or well water using an ordinary pool pump and a garden hose. A bulk water delivery company can fill up a medium-sized swimming pool in just a few hours, whereas a hose might take several days or more. Also, if your area is experiencing a water shortage or a drought, pool water delivery might be your only option.
If you want to dive into your pool sooner than later, paying a bit more to have a water supplier deliver water is probably your best bet. With an outdoor pool, you might not even have to be home when the water tanker gets there. The delivery truck will arrive within a specified time window, drop their hoses into your pool, fill you up, and send you an invoice. As a swimming pool owner, it doesn't get much easier than that.
Finding a Swimming Pool Water Delivery Service
Water delivery services are more common than you think. That said, we researched the best water delivery services for cities in California, Texas, Florida, Arizona, New Hampshire, and Connecticut.
Pool Water Delivery CA
They have potable and non-potable water trucks and customize their delivery based on your specific needs. 
Areas they service: Sonoma, Lake, and Mendocino counties.
Their trucks are stainless steel and can transport anywhere from 1,000 to 6,000 gallons depending on the size of the truck they can maneuver around your property.
Using stainless steel trucks is the only way to guarantee that you will never get rust from tanks in your water. 
Areas they service: Alpine, Bee Valley, Bonita, Boulevard, Campo, Carveacre, Dehesa, Del Mar, Dulzura, East Lake, El Cajon, Granite Hills, Guatay, Jacumba, Jamul, Japatul Valley, Julian, Lakeside, Lawson Valley, Lemon Grove, Live Oak Springs, Lyons Valley, Marron Valley, Mt. Helix, Otay, Pine Valley, Portrero, Poway, Ramona, Ranchita, Rancho San Diego, Rancho Santa Fe, Santa Ysabel, Santee, Shelter Valley, Warner Springs, and the greater San Diego County.
Pool Water Delivery TX
Their average price is $155 per 2,400-gallon tank (zip code dependent).
Areas they service: Austin, Bee Cave, Lakeway, Dripping Springs, and Wimberley.
Their average price is $175 per 2,000-gallon tank (zip code dependent).
Areas they service: Hays County, Travis County, Blanco County, Burnet County, Williamson County. 
Pool Water Delivery FL
Areas they service: Orlando, Mount Dora, Ocala, Gainesville, Titusville, The Villages, Tampa, St Pete, Daytona, Jacksonville, Tallahassee, Miami, The Keys, Naples, Fort Myers and all of Florida.
Their average price is $350 per 6,000-gallon tank (zip code dependent).
Areas they service: Ft Myers, Cape Coral Area.
Pool Water Delivery AZ
Their average price is $155 per 2,000-gallon tank (zip code dependent).
Areas they service: The Valley of the Sun and the Salt River Valley in Maricopa County.
Their average price is $175 per 4,000-gallon tank  (zip code dependent).
They service all over Arizona.
Pool Water Delivery NH
Their fleet of stainless steel and aluminum trailers are equipped with a pump to off-load water efficiently. 
They service all over New Hampshire.
Their average price is $340 per 6,000-gallon tank  (zip code dependent).
See the areas they service here.
Pool Water Delivery CT
Capone's is a potable bulk water carrier.  Their water is delivered from municipal water systems in your area,and they do complete fills or top-offs. 
They service a wide range of areas across Massachusetts and Connecticut. 
They provide bulk spring water.
Their average price is $295 per 6,000-gallon tank or $148 per 1,200-gallon tank  (zip code dependent). 
Areas they service: Berlin, Cheshire, Clinton, Cromwell, Durham, East Haddam, East Hampton, Glastonbury, Guilford, Haddam, Hamden, Higganum, Kensington, Killingworth, Madison, Meriden, Middlefield, Middletown, New Britain, Newington, Northford, North Branford, Plainville, Portland, Southington, Wallingford.
As we mentioned, many water delivery services offer potable water or municipal water – some will offer both. Also, you might be able to get pre-chlorinated water for your pool, but some municipalities don't allow it. This is another reason why calling around to various companies is a good idea. If you live outside of these cities and would like to learn more about the pool water delivery services in your area, we recommend using Yelp to find services to compare.
Reducing Pool Water Loss
Any option you choose to fill your pool will come at an expense, whether in the form of an invoice from a delivery company or your city water bill. To save money on filling your swimming pool, we have two suggestions:
Check your pool for leaks 
Invest in a pool cover 
Careful maintenance can help you find a pool leak and fix it quickly, and a pool cover will protect your pool from the sun and dramatically slow evaporation.
Testing and Balancing Pool Water
No matter what type of water you have delivered, you can't skip testing it – yes, even if it's pre-chlorinated. We recommend using test strips to check your water chemistry, which will give you the most accurate reading.
With swimming pools and hot tubs, the water needs to be balanced, sanitized, and healthy for swimming. A test will tell you if the water contains bacteria, high levels of minerals, trace heavy metals, and other contaminants. A test will help you find out what chemical additives you'll need to get your pool into the safe swimming range.
The simplest way to test and balance your pool water is Pool Calculator. Our handy mobile app for desktop, Android, and iOS makes it a breeze to find your total alkalinity, check for calcium hardness, balance your pH levels, stabilize your free chlorine, and more.
Ready to get started? Make your first stop the Pool Calculator app. As we mentioned above, it's absolutely essential to test and balance your pool water – no matter where it comes from. With Pool Calculator, that daily maintenance is a breeze. That means you spend less time doing math and more time splashing, playing, and sunning beside your backyard oasis.
Sources:
1. https://www.sciencedaily.com/terms/water_scarcity.htm
3.  https://www.cdc.gov/healthywater/swimming/swimmers/rwi.html
4. https://www.epa.gov/privatewells/potential-well-water-contaminants-and-their-impacts